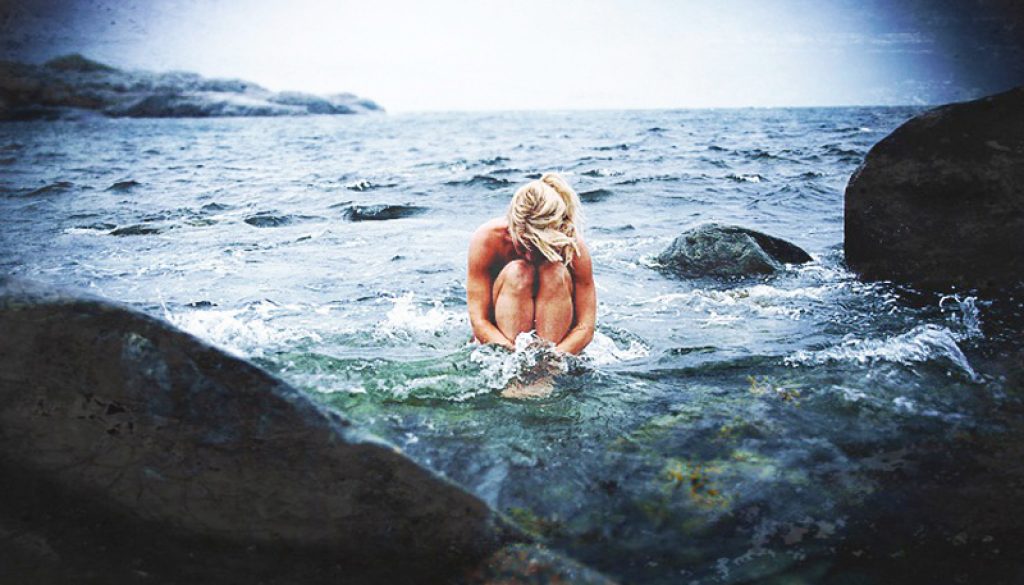 If you ask me how I am I will usually answer that I'm ok, even if I'm not.
Why? I don't believe in complaining. I think complaining is a negative waste of time and rarely solves anything. Since I  don't  complain or post ugly photos on facebook, from an outside point of view, It looks like I'm living a dream-life. And don't get me wrong, I wouldn't want to live any other way. But even dream-lives crumble. I am not a super human.
Sure I can be mentally strong during deep freedives. I can handle big mountains and steep rock climbing, fear of heights, really hard training, tough weather and public speaking in front of thousands of people. But I couldn't handle a crumbling life any better.
I remember the day when life quietly started to fall apart. On the outside it looked like a normal, great day – apart from a burning knowledge of something being wrong, and it being mostly my fault. Then it happened quickly. An important part broke, and as if all other parts depended on it, the rest crumbled.
As often happens, it's not just one thing to handle at a time, but all at once. And of course with bad timing. It started a few weeks before the world record-competition in freediving. I had put all my effort into it for almost ten months in order to not make the same mistake again (not having enough time, pushing for a record anyway and injuring myself). Suddenly I was short of time.
So in short time, and in a fast succession, the was food poisoning, the sadness, inability to train, the comeback of my knee injury, the shattering of future dreams and plans, worried family, migraines, guilt of leaving my climbing partner to climb our next adventure by himself, sleeplessness, tooth ache, loss of an income, perceived outside pressure and expectations, a black-out from the first deep dive attempt and hospital with a bad lung squeeze injury, and then the death of a young man and friend of friends in Dahab. I still pushed into another failed record attempt. Emptiness. Pointlessness. Crumbles.
At first I tried to be strong
To be the calm in the storm
It didn't work
I was a mess
I remembered all the poor countries I've visited in the world. People I've met who are far worse off than me. With that perspective I shouldn't complain. It could be worse, but this time it didn't make me feel any better.
There is no manual in how to handle a life falling apart.
I tried to go back to basics. What was most important? Love. Family. Friends. I tried to sleep and eat. Let my lungs recover. If my body functioned well the rest might function better. I cleaned the house. Put e-mails, social media and plans on hold. I tried listening to music and watch movies, surprised myself by being able to write sometimes. I did yoga, tried to accept what was and let go. I tried to be patient and not be too hard on myself. Tried to smile. I reminded myself that I like challenges and difficulties, that I used to think that life was fun and interesting when it was difficult. It comes back to the mind, how what goes on in the thoughts affects everything. But also how the emotions affects the mind.
My friend and guru asked me once: do you know why it's difficult?
I know the answer: because I have decided that this is difficult.
Life is a series of decisions. Bad ones, good ones, small ones, some we aren't even aware of making. The decision to pick yourself up, face what needs to be faced and then go on is what really defines you. I could make the decision that this is just another adventure. The inner one. The real one? Maybe harder than climbing mt. Everest. It doesn't change the situation – but it can change your attitude, which can make all the difference.