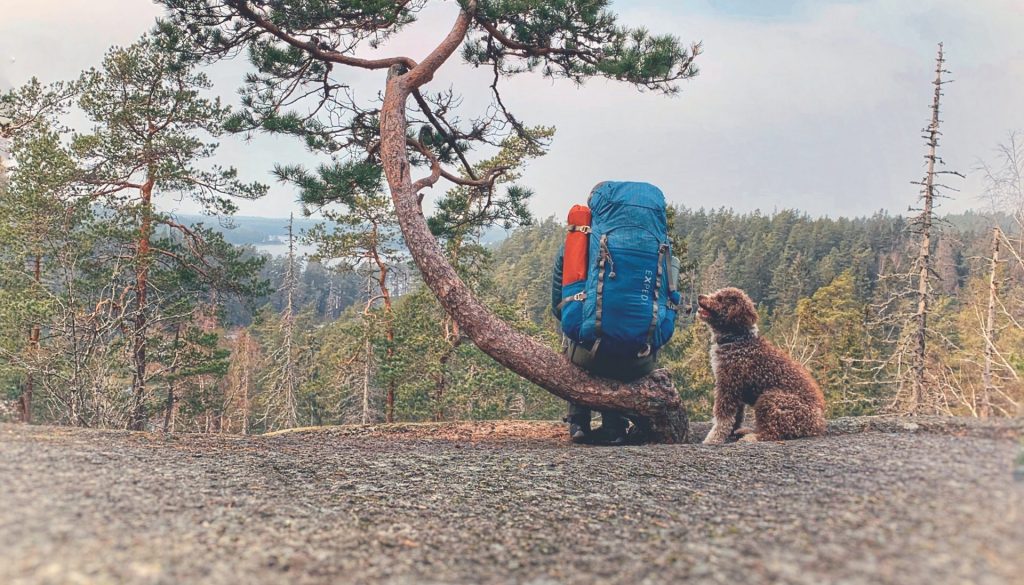 It's not really about escaping from anything. It's more like going in a search for something different. Having heard lots of good stories about Tiveden (not about the crowds), it was overdue a visit. It starts out with a surprise! You'll drive amongst nothing but flat fields util you turn left, and suddenly you are surrounded by a deep and beautiful pine forest.

Me and my friend Catrin and of course, Doglas met up in the middle of Stockholm and Gothenburg; Tiveden national park!

The practicalities: We had from thursday to sunday afternoon and saw almost all of Tiveden's trails during those days. We started hiking clockwise, and then made the inside trails as we were finished walking around. Carrying all gear made us a bit slow, but with lots of time to enjoy the views. Almost all trails starts from the main entrance, which also has the most parking spots. There you can also find fresh and tasty water from a old fashioned pump. For the rest of the water supply you can boil or purify lake water. There are only two spots where you are allowed to camp within the national park, and they are both beautiful. All fire/grill spots are near lakes and parking spots.
It's of course perfectly fine to walk outside of the park limits and pitch your tent there. The camp and picknick sites are extremely well taken care of, and there was firewood at all of them. The trails are very well marked. We met a few others, and most of them told us about the crowds in summertime. It's of course wonderful that people are enjoying the forest, but being there without lots of traffic makes it a more close-to-nature-experience.

The nature is stunning in it's simplicity and variation. There's pretty much anything from green moss and pines, to rocks and views, as well as lakeside trails. All trails are in a good size, and not too wide and boring. Wood trails are built to protect nature from us, and for us to not get too muddy. Even if you'll see the trail markings and signs here and there, you can still get the feeling of being really far away in the wilderness. We hiked a few kilometers north east on the 'bergslagsleden' as we ran out of trails in Tiveden, and it seems worth a visit as well!

Tiveden is the perfect place for a mid-weekend or weekend excursion with or without tent. You can find accomodation at a few places around the national park if you just want to do day trips! It's well worth a visit!