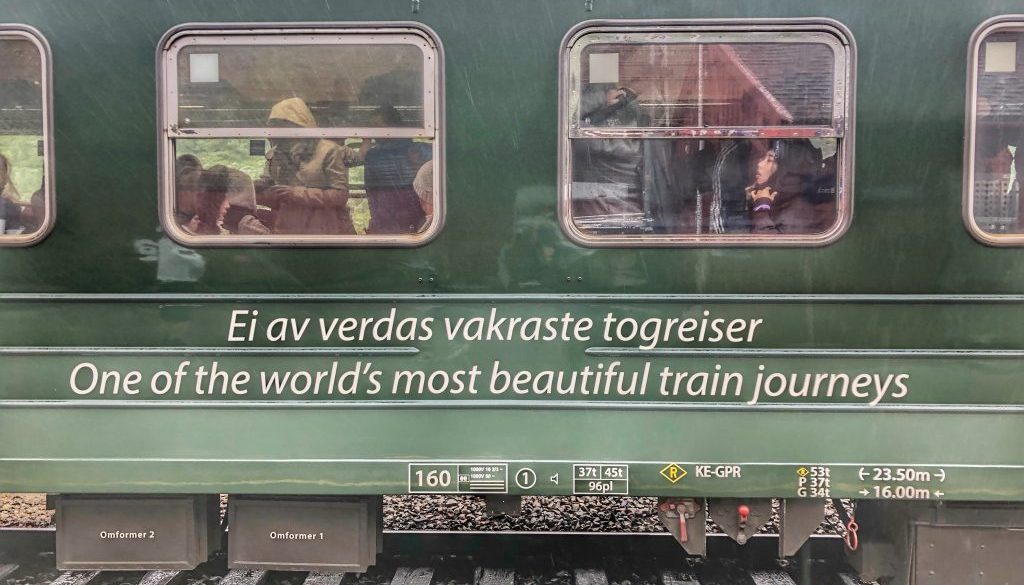 Our neighbour country Norway is one of the most beautiful countries I have seen. Every time I'm in Norway I wonder why I'm not there more often. Especially since its easy accessible by train. From Gothenburg it's about 4 hours easy comfy ride to Oslo. In Oslo Sentral I changed to the Bergen line which soon climbed into Hardangervidda and beautiful views. This leg of the trip was full of Chineese tourists, which is obviously Norways next money making machine next after the oil industry (which is more enivronmentally friendly??) My train neighbour spent most of the time on one of his three mobile phones. :-0
I took a bus another 20 minutes to arrive almost next to our base camp for the photoshoot for Bergans with the now familiar dream team of photographer Hans-kristian Krogh-Hansen and guide/model Sigurd Felde with the addition of Remi Keiseraas on video. We had amazing plans for many mountains that eventually came down to Breiskrednosi, a beautiful hike with everything typical Norweigan; fjords and steep cliffs. We had a steep start through a jungle-like environment before we climbed above the treeline. It gave way to a steep valley clad with waterfalls along the walls, sprinklef with spots of new snow on top. We left the summer heat and moist air of the forest below and hiked into a cold wind. Exactly at the pass with the view of a lake where we decided to stop for lunch, it started snowing on top of the cold wind.
The snow gave way to a blue sky and sunshine. We hiked around a few corners and suddenly found ourselves above the fjord with breathtaking views. All of the hiking of course gets mixed with Hans-Christian taking photos with various backgrounds and outfits of the coming Slingsby series from Bergans. It's a collection focused on the more tough parts of outdoor life like climbing, scrambling and back country skiing.
As we had great weather we were quite efficient and 'only' spent 12 hours on the mountain. We had a train of goats stopping from getting to dinner, and then falling into a deep sleep. We woke up to have some time for fishing salmon (!) I have never tried fishing as I dont eat fish and love to see them alive. But I do like the idea of fishing, of standing by the river, hoping not to catch a fish. My friends practise catch and release, but anyway. Did you know the terrible condition of farmed salmon? It's brought up to grow large quickly in round nets. They're fed with antibiotics and often different environmentally dangerous substances are used to keep illnesses away. If/when they escape (in thousands) up rivers they contaminate the more extinct wild salmon. The fishing of wild salmon is thereby extremely regulated. And few. We didn't get any catch this time.