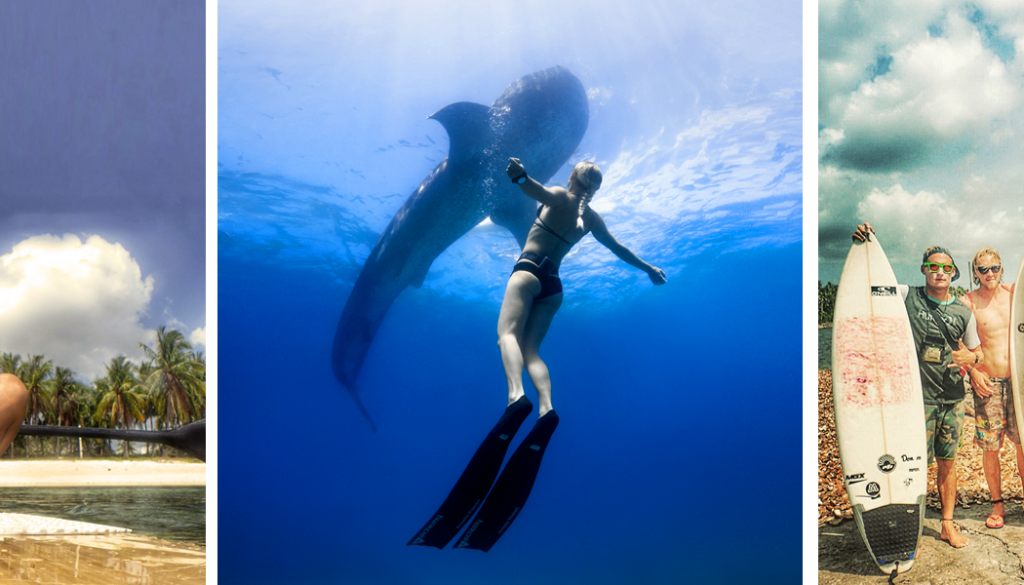 As usual when travelling with my best friend Akim, I have no idea what's waiting. Being with him is always an adventure. First I thought we were going to train in Bali, when suddenly the Philippines appeared to be better, deeper. And there is a great freediving center there.
All I knew of the Philippines is that it's warm and nice. Which is really enough. It's not only about the warm weather. Countries are made up by people, and the people I met in Philippines were very warm, sweet and helpful.
They also made me feel I like a moviestar in Mactan. There is extremely few western tourists, and the weeks I was there I only saw another blonde person. We both stared at each other. As I was getting stared at by everyone. But in a very nice way! People and children would look up from what they were doing, their faces suddenly full of a beautiful smile, waving their hands and yelling a familiar "hello!".
The sea was also warm. Surrounded by soft water I held by breath longer and dove deeper on an exhale. But for some reason I didn't get the deep dives to work. Freediving requires patience. And training. And good people to train with. I'm fortunate to be able to train with some of the best in the world. And in one of the best freediving centers in Asia, freediving HQ, ran by Australian Mike Wells who is a big profile in the freediving world. But also very humble and relaxed. The freediving center is nicely organized and professional. Small things like having a fresh towel and lunch waiting for you after a dive session is a luxury we don't often have.
The only first disappointment was the underwater life. There is still a lot of fishing with dynamite and cyanide which has killed a lot of coral reefs and fish, so if you want to see amazing corals you have to get away from the bigger islands. (There are 7000 islands in Philippines, so quite a lot to choose from). Freediving with the whale sharks was an amazing experience!

 But I still couldn't push myself to free dive deep if the passion is not there.
So I followed my belief that you will dive deep if you are happy. Surfing makes me happy. And by chance I have a friend from my childhood surfing only a few islands away. 

I bought a ticket and went the next day.
And landed in paradise.
Siargao was all I had hoped for in the Philippines; remote, pristine, not much tourists, amazing nature, quiet, not much traffic, good food, beautiful beaches, crystal clear water, friendly people, good friends – and surf. It's the kind of place I'd only wish for to exist.

 As I arrived I found that half my old friend Carl's family was there too – having bought a wonderful bungalow resort, villa solaria! A perfect place just by the beach, surrounded by coconut palm trees and the sound of the sea. All of them surfing, of course. So we surfed the afternoon, had a short sleep to wake up at dawn for the swell surf.
That morning i
It wasn't just swell. Unless houses can swell. The waves were as big as houses! I have never surfed anything close to the size of those waves, but didn't really think about it. All I wanted was to be there on a surfboard. But I'm still a beginner at surfing. As the walls of water closed in my blood was full of tingling adrenaline and it took a while before I choose a small-sized-house-wave. I paddled my arms off but didn't get on it. As I turned around there was another wall closing in. I quickly found out that duck diving or turtle rolling didn't really work. There was a moment of silence before I was inside a roaring washing machine of water that pulled, pushed and tumbled me around like a broken umbrella only to spit me out in white foam some half eternity later. The power of nature was stunning. And so was the long paddle back. I only got some smaller waves and whitewater, but I'm not a picky surfer. I was just very happy.
I left with saltwater dripping from my nose knowing I will come back.
Actually I'm thinking about making a freediving/surf/yoga camp in Siargao. Anyone interested?