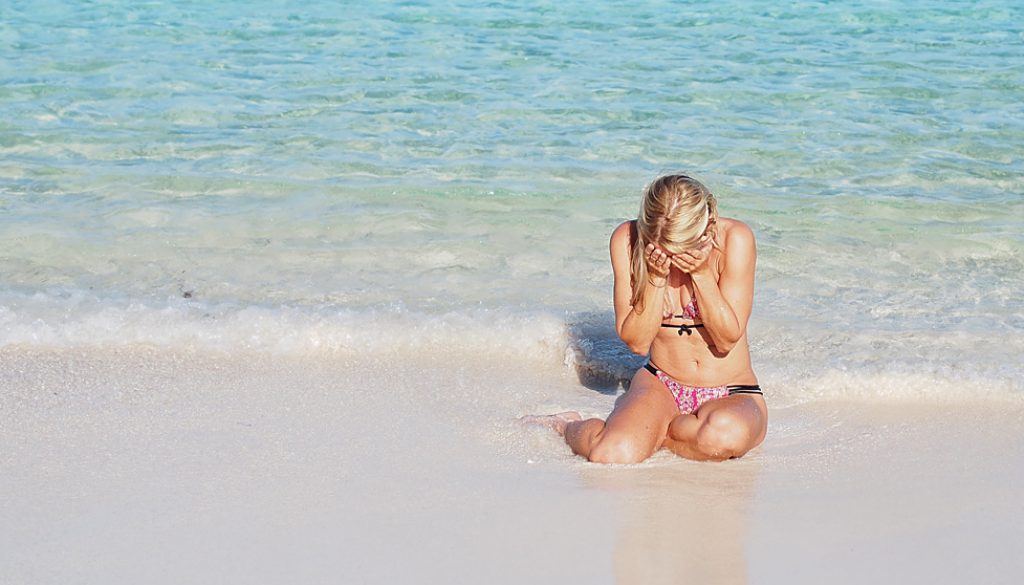 I live with passion, but I have a passion-problem. I am one of the world's deepest freediving women soon to be in a freediving competition, and I can't freedive deep anymore.
I'm in Bahamas in one of the best places to dive deep and compete. But every time I try my body says no. I did a fairly easy dive to 99m late last year. The world record is 101m. I tried to do it, made it to 102m but blacked out on the way up. Now I can barely get halfway to a hundred meters without my body cringing with contractions and the urge to breathe.
I love being in the water, and I love the training and fun with my friends here, but as soon as I go for a deep dive my body says no. I don't know if it's the body that is not ready, or if it's the brain telling the body it doesn't want to. Or maybe it's the heart. Is it just that my passion for deep freedives is temporarily gone? Maybe I freedived too much last year. Maybe my body is not ready. Maybe it's excuses. Maybe it's time to stop competitive freediving. But I'm not the kind of person who ever gives up. Maybe I need a break. Or maybe I just need to stop doubting.
Freediving is different from any other sport in the way the emotions and thoughts play a huge part of your dive. One single thought or emotion can be reason enough to abort a dive. By that it's by far the most challenging sport I have ever tried (and I have tried a lot of sports). Freediving is challenging because it's not just a sport. It's about every other single detail in your life too.
When you freedive you close your eyes and dive into yourself.
When you freedive you are utterly alone with yourself, your thoughts, memories and emotions.
I have created my lifestyle by living passionate. I have followed my dreams and always done what I really want to do, and feel like doing. I never asked myself if a life lived without passion would even be worth living. I used to go to sleep at night just wishing for it to be morning so that I could dive deep again. I used to come back from my deep freedives with a silly smile on my face, counting down hours for my next time in the sea.
Of course I cannot freedive deep without a passion for depth. I talked to freedivers about it, and I talked to my speaking- and lifecoach about it. He is wise and good at helping me to think differently. He said humans are always trying to complicate things. Our brains are amazing. He also said he knows that you can decide what emotions you want to have. So I will need to decide to be passionate about depth again. With 10 days until the competition starts I need to get my passion back by remembering what I love about deep freediving, and stop inviting the doubt to my inner conversations.
Freediving is difficult that way.
– "You know why it is difficult?" my coach would ask. "Because you have decided that it is difficult".
What if it's really that simple?