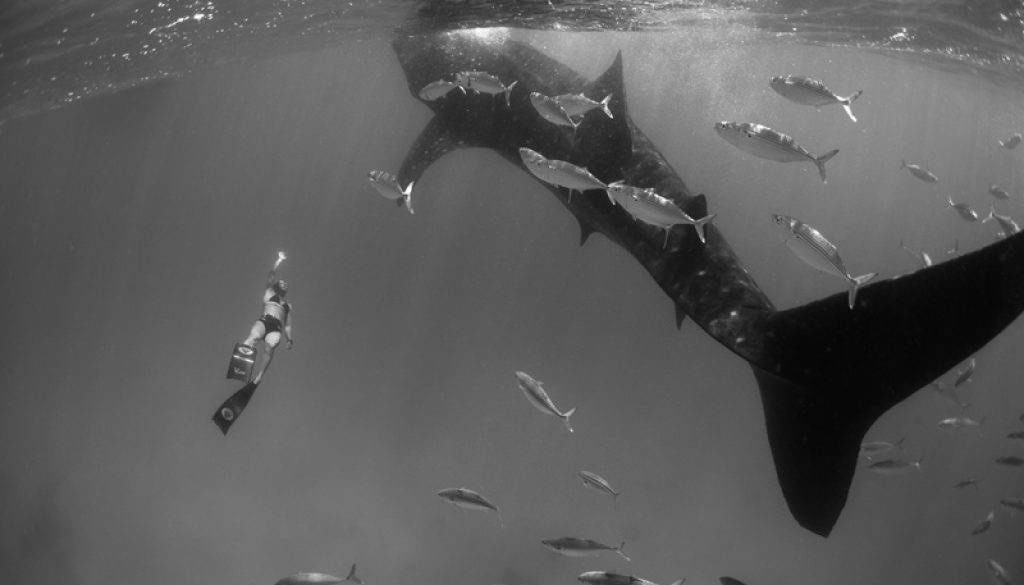 I'm rarely nervous when I'm about to freedive. But suddenly my belly was full of butterflies. I was about to step into a tiny typical philippino boat without a engine that would take us out to the whalesharks. They told us there would be at least 5 of them. Maybe up to 15. And I thought one would be more than enough. How am I going to react to 5 whalesharks at a time?? How much happiness can I handle!?
As our boatman paddled out the flat surface was suddenly broken by a huge shiny black nose with white dots. An eye watched us for a few seconds before the nose dissappeared again. My heart was beating hard and loud and I found myself holding my breath already.
I don't remember putting on my fins and mask. I just remember suddenly being in the water swimming towards an enormous black shadow moving ahead. As I got closer the whaleshark opened his mouth and started eating by filtering out small fish and plankton in the water. I swam respectfully to the side. The mouth was probably 1 meter wide! I didn't want to disturb the gentle giant's breakfast.
The most amazing moment I had was when freediving down and swimming up slowly as one of the whalesharks (my favourite) swam above me in all his 8m length. For a few seconds we were belly to belly, heart to heart. A few meters apart, but anyway. I could feel an openness in my heart, a great love for this gentle giant who allowed me to swim by his side for a few moments. I think I had salty tears of happiness in my eyes.
We were 10 freedivers from team Freedive HQ. I was very fortunate to have photographer Martin Zapanta freedive with me. As I'm also a photographer I also wanted to take photos. But I also wanted to be in photos with the giants. And most of all I wanted to fully live the experience without a camera in my hands. So I only used my camera for 5-10 minutes and got a few shots.
Swimming respectfully with sharks
Freediving with sharks in Oslob in the Philippines can now only be done under controlled circumstances. The whalesharks are fed for 5 hours in between 7-12 every day in the same place. A certain amounts of the conservation's boats are allowed to be there at a time. Some people can't swim or freedive and stay on the surface or sit in the boat in a line.
Before this there was a craze about the whalesharks. Scuba divers centers found out where they were and there could be around 20 boats with divers and engines hurting and stressing the whalesharks. So the authorities stopped it. They also stopped the locals from killing and eating whalesharks. Instead they gave them this opportunity to learn about and conserve the whalesharks life and make sure people can interact with them in a harmless way. There were rangers making sure no one swam closer than a few meters from the sharks, and absolutely no touching, no wearing sun screen, or using flash on the cameras.  I believe it's natural and good for people to interact with the sea in order to want to save it. So though it felt like a slightly strange setup to freedive with whalesharks like this, I think this is a better way than hunting them with big boats in the wild.
Photos by Martin
Zapanta: (http://www.martinzapanta.com/)