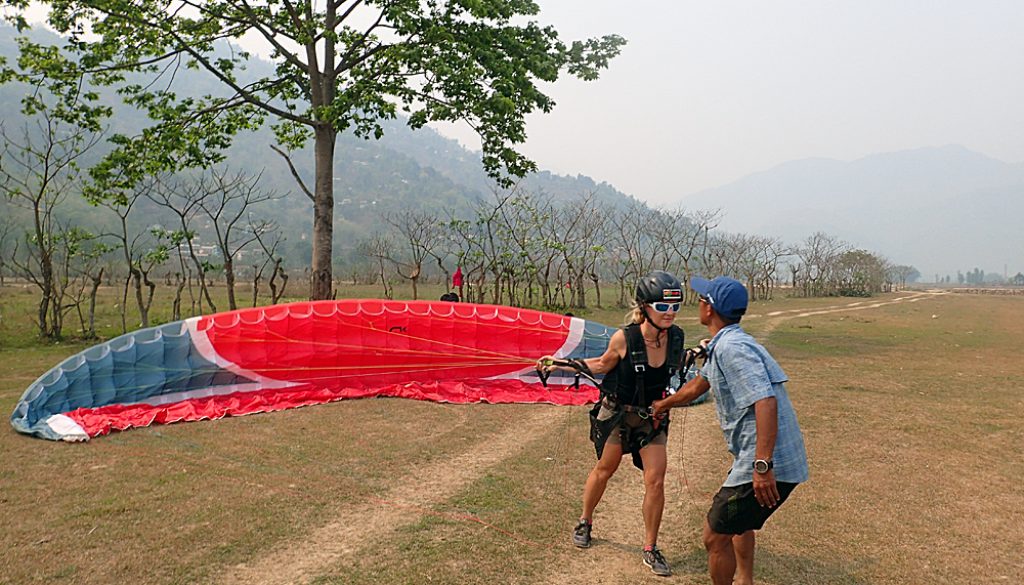 He was on the summit of Everest one day after me. 21'st of may he paraglided from the summit down to earth, landing by a really rough river which he river kayaked all the way to the ocean together with a friend. You might expect him to be a big, tough macho man. But he's a small Nepali guy with a huge smile and a big heart.
I remember hearing about him in Everest basecamp as I was thinking 'hm, paragliding – I want to try that one day'. That one day was last week. My teacher was Babu Sanuwar, the man who paraglided of Everest. He's a master at what he does. One time he pointed to a eagle flying saying 'Look – there is master'. He says paragliding is a feeling-sport, not a fighting-sport and that we must learn to fly like birds, by feeling instead of watching instruments.
The kind and humble adventurers who love nature are different from the adrenaline junkies. The nature lovers have put a lot thought, kindness and wisdom into their sport. I quickly realised Babu is much more than an instructor in paragliding, he's a guru of life. As I learnt to fly like a bird, he taught me and reminded me of so much more;

If you are afraid of the landing the flight will be bad
If you think about everything that can go wrong with what you are trying to do, the way there will not be very enjoyable. If half of the body and mind is prepared to fail the result will probably not be very good. When we are tense and afraid we just don't function very well.
Don't look at the goats!
I was worried to crash on the goats that were running around close to the landing. Babu just told me to not look at the goats. In paragliding you fly where you look with your eyes. If you focus on the ground you will crash. If you look to the rock on your right and focus on it, that's where you will fly. You simply need to focus on where you want to go, not where you don't want to go!
Simple is so much better.
Suddenly we were flying. It was my first time and the tandem takeoff to our training ground happened so fast and so easy I was surprised. Babu said that keeping it simple is so much better. So many people make things much more complicated than necessary. Why does people complicate things? he asked. He says flying in the sky is a lot much simple than living on the ground.
Control & Check, Decide, Fly
This is how you fly. Make sure you and the glider is under control, and don't let this phase take too long. Check your lines. A few seconds is enough. Then you need to make your decision. You accelerate and then fly. Keep it simple. Don't overthink things.
Small things make a very big difference
In paragliding (and in life) details are important. Pay attention to details. Small things do make a big difference. If a line is tangled or you just don't feel well – it could end in death. Do the basic job well. Trust yourself.
Nothing is perfect all the time. It takes time to learn
As I was frustrated I didn't get it right several times in a row, Babu laughed with me. Said 'of course you can't make it perfect, you just started. If it was easy you could learn from a DVD. Nothing is perfect all the time, like a computer. Even a computer breaks down sometimes'.
Most other paragliding instructors in Nepal are cool frenchmen or americans, showing off one of the most beautiful countries in the world. I think Nepal needs more Babu's. And Babu somehow realised this and is now teaching a bunch of young passionate Nepali the long way to becoming a master instructor.
In the end, after having made a quick progress and learned a lot Babu shook my hand and gave me a compliment, accompanied by a big smile: 'congratulations, you are not normal'.
[youtube https://www.youtube.com/watch?v=GM5UNrUuypw&w=560&h=315]