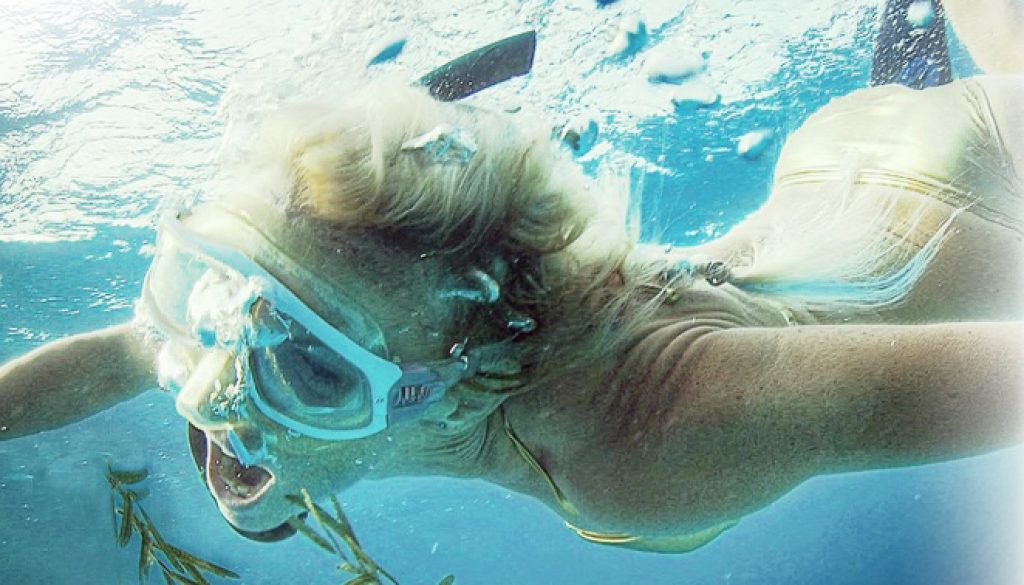 text in english below the photos
Jag har försökt döda en fisk. Det var i Bahamas när jag fridök med harpunfiskare. Jag hade en kamera, de hade vapen. Under en middag med dem smakade jag på en liten del av den fisk som de hade dödat, efter att ha varit vegetarian i 10 år.
Jag tror att harpunfiske är den bästa formen av hållbart fiske så länge de inte fiskar ut reven. Det kommersiella fisket håller på att döda våra hav. Inget vet hur det kommer påverka resten av jorden. Eftersom mina vänner hade valt och ätit bara den fisk som behövdes, verkade det rättvist. Men inte riktigt rättvist eftersom jag inte hade skjutit fisken själv. Så under ett av de sista fridyken bytte jag min kamera mot ett 'hawaiian sling'-spjut. Min vän pekade på en välsmakande fisk som var på botten. Jag tog ett andetag och dök ner till ca 12 meters djup. Jag är en besökare i fiskvärlden. Fisken, en hawkfish, var nästan stilla på botten, inte särskilt fiskliknande. Jag riktade spjutet mot fiskens huvud. Mitt hjärta slog hårt i bröstet. Fisken gjorde en nervös rörelse med sin bröstfena. Fisken har också ett hjärta. Jag undrade om den känner rädsla. Så vinklade fisken sitt öga och såg på mig. Mitt hjärta hoppade till. Vi tittade på varandra och jag skämdes.
Hur skulle jag kunna ta ett liv? En lyckligt fritt liv i havet.
Skulle du kunna ta ett liv som sett dig i ögonen?
Jag tror att det är bra att ifrågasätta sig själv. Varför gör du eller äter vissa saker. Jag har ifrågasatt mitt liv som vegetarian, och mitt svar är starkare än någonsin. Folk frågar mig varför. Jag har massor av stora svar; respekt för livet, miljöpåverkan och hälsa. Jag känner mig lätt och stark utan kött. Det är lätt att vara vegetarian. Att inte vara vegatarian är snarare att inte tänka och att leva själviskt. Någon kommer garanterat med argumentet: människan är född köttätare. På den tiden såg inte världen ut som den gör idag. Fisk/Köttindustrin är fruktansvärd på så många sätt. Vill du veta hur det verkligen går till så titta här: https://youtu.be/5oTCA9V3eNs

Jag är ingen anklagande vegetarian. Jag ser inte ner på folk som äter kött. Men jag hoppas att köttätare ifrågasätter sig själva, och kanske provar vegetarisk kost några dagar i veckan.
Sedan jag blev vegetarian över 10 år sedan har jag satt världsrekord i fridykning och klättrat 7 summits. Jag har också marklyft nästan 100 kg och sprungit 30k i skogen. Jag behöver inte kött att vara en bra atlet.
Men jag behöver veta vad man ska äta för att hålla sig frisk och stark. Jag tror i vilket fall att det är bra att ha en grundkunskap om kost och hur man påverkas av det man äter. Jag kompletterar min mat med multivitamintillskott och vitamin B och järn. Och jag se till att jag äter minst 2-3 olika proteinkällor varje dag. En stor förändring i min kost är upptäckten av "superfoods". Jag kan känna förändringen i min energinivå när jag lagt till vetegräs, chia, goji och hampa. De är perfekta att ha i goda smoothies! Jag använder kosttillskott från Greath earth eftersom de är ekologiska och har bra kvalitet. Utöver det undviker jag ägg, men använder en mjölkprodukt; kvarg, för att det är ett enkelt och gott sätt att få i sig protein. När jag är ute på resor och äventyr har jag alltid med mig proteinbars ifall att jag skulle vara utan andra proteinkällor ett tag.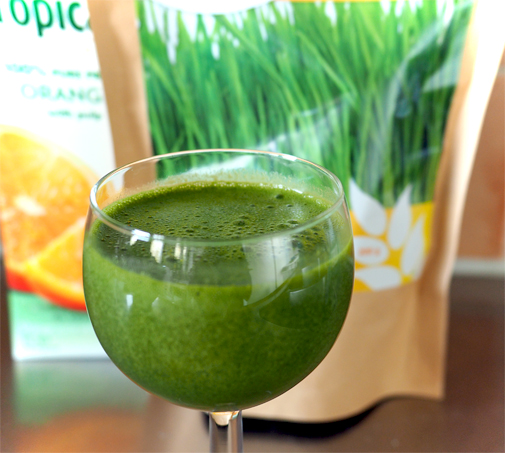 Min favorit just nu är gröna juicer. Här är ett repect på vetegräs-mix:
Mixa i blender eller med mixerstav
– 2 dl apelsinjuice (utan tillsatt socker)
– 1/2 dl pressad citron
– 2 tsk vetegräspulver
– 1 tsk hampaproteinpulver
– 1 msk riven ingefära
– tsk gurkmeja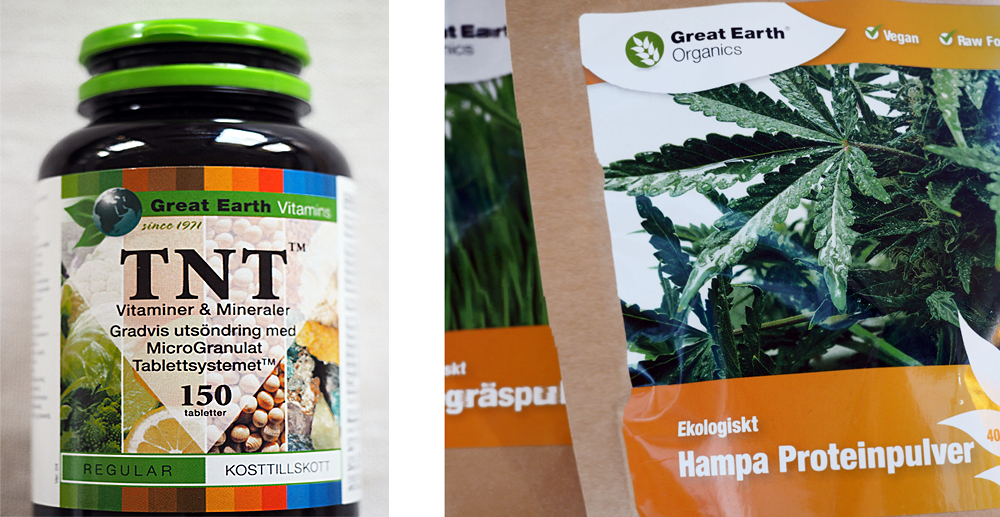 Ryan Myers filmed me with my camera when I tried to kill a fish with his spear.
[youtube https://www.youtube.com/watch?v=7O_Zx9sYbpA&w=560&h=315]
 Being a vegetarian adventurer
I have tried to kill a fish. It was in Bahamas while freediving with spearfishers. I had a camera, they had weapons. One time at dinner I had tried eating a tiny part of the fish they had killed, after having been a vegetarian for 10 years.
I think spearfishing is the best form of sustainable fishing. The commersial fishing industry is killing our seas. No one knows how that will affect the rest of the world. Since my friends had chosen and eaten just the fish needed, it seemed fair. But not really fair since I hadn't shot the fish myself. So for one of the last dives I traded my camera for a hawaiian sling spear. My friend pointed out a tasty fish that was still on the bottom.
I took a breath and went down to about 12m depth.
a visitor in the fish world
The fish just sat there, completely still and not very fish-like
I pointed the spear to the fish head
I could feel my heart beating.
The fish made a nervous movement with its chest fin
The fish also has a heart. I wondered if it feels fear
Then it turned it's eye and looked at me
My heart jumped
We looked at each other and I was ashamed.
How could I possibly take a life? A happy free life in the ocean.
I believe it's good to question yourself. Why do you do or eat certain things. I have questioned my life as a vegetarian, and my answer is stronger than ever. People ask me why. I have lots of big answers; respect for life, environment, health. I feel light and strong without meat. It's easy being a vegetarian. The world needs more vegetarians. But I'm not a judgmental vegetarian. I just hope you know what you are doing, eating meat. If you don't know – look at this: https://youtu.be/5oTCA9V3eNs
Since I became vegetarian over 10 years ago. I have set a world record in freediving and climbed the 7 summits. I have also deadlifted almost 100kg and ran 30k in the forest. I don't need meat to be a good athlete.
But I do need to know what to eat to keep healthy. I supplement with vitamin B's and iron. And I make sure I eat at least 2-3 different sources of protein every day. A big change in my nutrition is the arrival of 'superfoods'. I can feel the change in my energy level when I eat foods like wheatgrass, chia, goji and hemp. I have the luck of being sponsored by Great Earth supplements. Apart from supplements I try to eat as much non processed foods at possible. When I'm out on travels and adventures I always bring protein bars, just in case I don't find any other sources for a while..