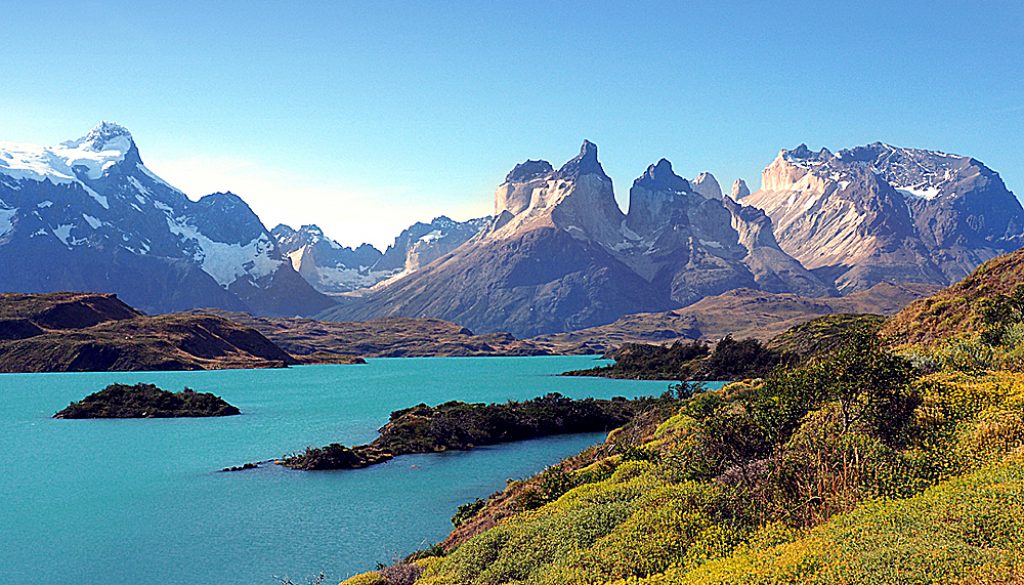 Patagonia. There was magic in the air. I inhaled it and it will stay with me forever. And I will have to go back. The place made such a big impression I'm still overwhelmed. So I might have to go back just to check it again – and take more photos. And climb more mountains.
I have been climbing since I was 14 years old, and suddenly I felt like a child again. Patagonia is a playground for the adventurous nature lover. There is hiking, climbing, mountainbiking, mountaineering, kayaking, horse riding and fishing. The nature is ever changing. Patagonia has a unique microclimate that makes the weather very unpredictable. I like it. And then there's the wind. You could hear it from far away, like a incoming train. It comes closer and closer as the sounds gets louder. You will lean in towards the rock and feel it caress you roughly, tousling your hair into a wild mess. As the wind passes and increases it might eventually hit a rock wall straight on with a loud 'pang'. It will probably be accompanied by the sound of falling rocks and the groan of a slow moving glacier.
I gave it all. Not having recovered from the Antarctic, it was still all I could do. I was still coughing from an airway infection but Patagonia left me no choice. Torres del paine had to be explored. Staying with new friends, we hiked, biked and kayaked together. As they had to leave I spotted something. It called out to me, as some mountains just do. Between the massive towers was a sharkfin. A huge grey fin rising out of the ground. It asked to be climbed and experienced, as if it had something it wanted to teach me. Not a rock to be conquered, just experienced. I needed to see what I would learn from it.
First all I heard was 'no, it will take a week to get the permit'. Then I found Jorge. (You can find him at patagonia adventure hostel!) He's the kind of person who thinks it's possible to do anything with some dedication and passion. He got the permit in 2 days. So we went off to climb. It was tough. I really liked how Jorge didn't treat me different just because I'm a woman and quite small. Without a word we both carried an equal of 24 kilos in out backpacks. It's almost half of my bodyweight. And I love having a heavy backpack on my back. It's the promise of great adventure.
It was a heavy walk though. Upwards through forest, moraines and boulders we went to a cave for bivy. It was set amongst huge boulders. It was a playground. I love scrambling amongst boulders. The childishness took over and as Jorge took a siesta I ran around photographing and eating berries in the playground. Jorge the guide let me play, like a parent who thought "she will come back when she is tired and hungry".
It was the first time I have slept in a cave. The view was better than any other. And sleeping on my Exped down-mattress I slept better than in any 5-star hotel. But we didn't sleep long. At 3 am we woke in darkness, having a quick coffee before a 1 1/2 hour hike in light of headlamps to the bottom of the rockface of the Sharkfin. I love being out in the middle of the night with my headlamp. There is a intense focus and feeling of being alive.
Then we climbed. We took turns leading. I was often afraid. I marvelled at the view. I wouldn't have had to climb. Just being there, in the midst of granite giants would have been enough. But climbing made it even better. The higher we climbed the better it got. It took us about 12 hours to get up. From the overhanging top we could see all the way down on the other side of the fin, 800m below us. Then we rappelled 3 hours and 13 pitches of rope to get down. 80% of the accidents happen on the way down. As we'd only brought 1L water each and not much food (too heavy) concentration runs out, but it's more important than ever to keep disciplined. Life and death kind of important. At the bottom of the rock me more or less stumbled back to the cave and arrived just before darkness, starving and thirsty and happy. Every muscle in my body ached, from fingers to toes. That's the way I like it. I know I have done something that took everything I had.
It was hard to film and take photos while climbing, but I made a small film from the climb:
[youtube https://www.youtube.com/watch?v=aqWEXqaeicI&w=560&h=315]
Coming back into puerto Natales was also great, if slightly unreal. From the silence of the valleys and nature into a busy pub for food and local cerveza. I didn't even shower after having spent 3 days hiking, sleeping and climbing in the same clothes – I went directly to bed. My last day felt like home. We sorted gear, drank yerba mate with other climbers and talked about next climbs to do. I will come back.
It took over 70 hours of travelling to get back 'home' to Sweden. That's when I understood how far away I'd been.
I have hundreds of photos; here's a few.