I can't pretend that I like Stockholm. The stressful pace, buildings, roads, shops and cars everywhere are the opposite of what I enjoy. It makes me feel like a fish out of water. When I have a job in the city I come and go as quickly as possible, always by train. It takes a lot of energy to be in the city and it gives nothing back but headache and tiredness. Fortunately I love my job and find it energizing enough to balance the hardships of citylife. I wrote this blog for any other outdoor person who need to find some green or blue while in Stockholm. If you are there for a longer trip I can recommend my publisher Calazo guidebooks into nature for both hiking, mountainbiking and kayaking.
Last week I did something I promised myself not to do. 5 talks in 4 days – in Stockholm. I did it because the company I gave talks for seemed inspiring and challenging. And because I could bring Doglas with me to Stockholm. There were many hours in the day that I was not working and could go outdoors and play/explore with Doglas. Having a dog is like being with a small part of nature, and having him with me even made the Stockholm days more fun. The last days he's experienced more city life than his entire lifetime of travelling through Gothenburg…
Wanting to leave him as short periods as possible in a hotel we had to stay in the very city center. Fortunately there's a outdoorsy hotel called 'Downtown Camper' which has the feel of a cabin in the mountains – in the middle of the city. I generally don't like big hotels, but this one is more than ok. It's got a great hold on sustainability and health. And dogs are welcome! Basically, it's a good base camp.
The search for nature started immediately. The 'Lifestyle concierge' recommended 'kungsträdgården' and 'humlegården' as the most nearby green areas. We visited both in an hour. They were more brown than green and 'parks' aren't close to real nature. I found myself thinking that Doglas is probably as sceptical to this as I. But he happily picked up a stick in his mouth and played in the dirt. It's too easy to push your own feelings onto animals. We tried to make the parks last longer by zig zacking through them. The next day we made a longer expedition to the south of Stockholm. Some 30 minutes away by public transport is 'Nacka naturreservat' which seemed promising. After some searching we found very badly marked routes through the forest and by a lake. Luckily I like to be lost! Finally there was a real forest. As Doglas never runs away I let him off the leash and we both felt more free. It was a big contrast to breathe fresh air again. The best route from Hellasgården was the blue one, which was more of tiny trails than a walking path. Anywhere we walked we could still hear the traffic in the distance wherever we walked. Next time we'll take the bus further.
My friend Cirrie took Doglas on a private adventure while I did one talk out in 'Rissne'. Thank you Cirrie!
Close by the city center is also 'djurgården' which is mostly paved walks but some nice trails into small forest parts, and good water views. There we met a new friend who showed us around! We also tried 'Hagaparken' which was crowded, dirty and noisy, but maybe we didn't go to the good places or at the right time of year..
As for food I made good use of the page 'tamedhunden.se' where you can find a map that marks cafe's and restaurants where you can bring your dog. I did quite a few takeaways so I could eat with Doglas, or even better – eat outdoors.
I'll never do what I did this week again. If I do more than one day in Stockholm we'll need to stay more close to nature. Nevertheless its good to be flexible in your lifestyle and open enough to see how others live to be able to better understand the world.
It was difficult to take good photos. Here are a few ok ones from our small adventures: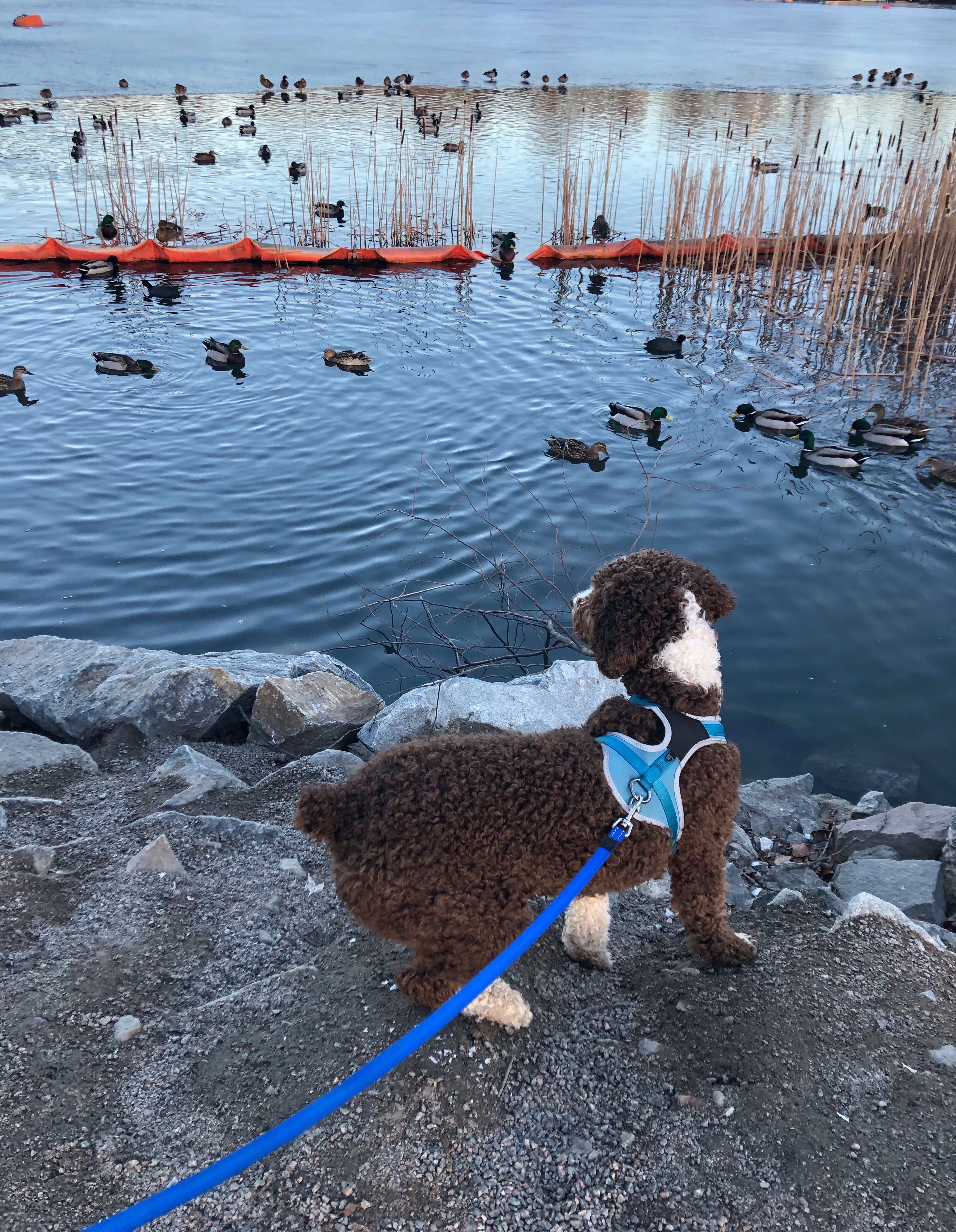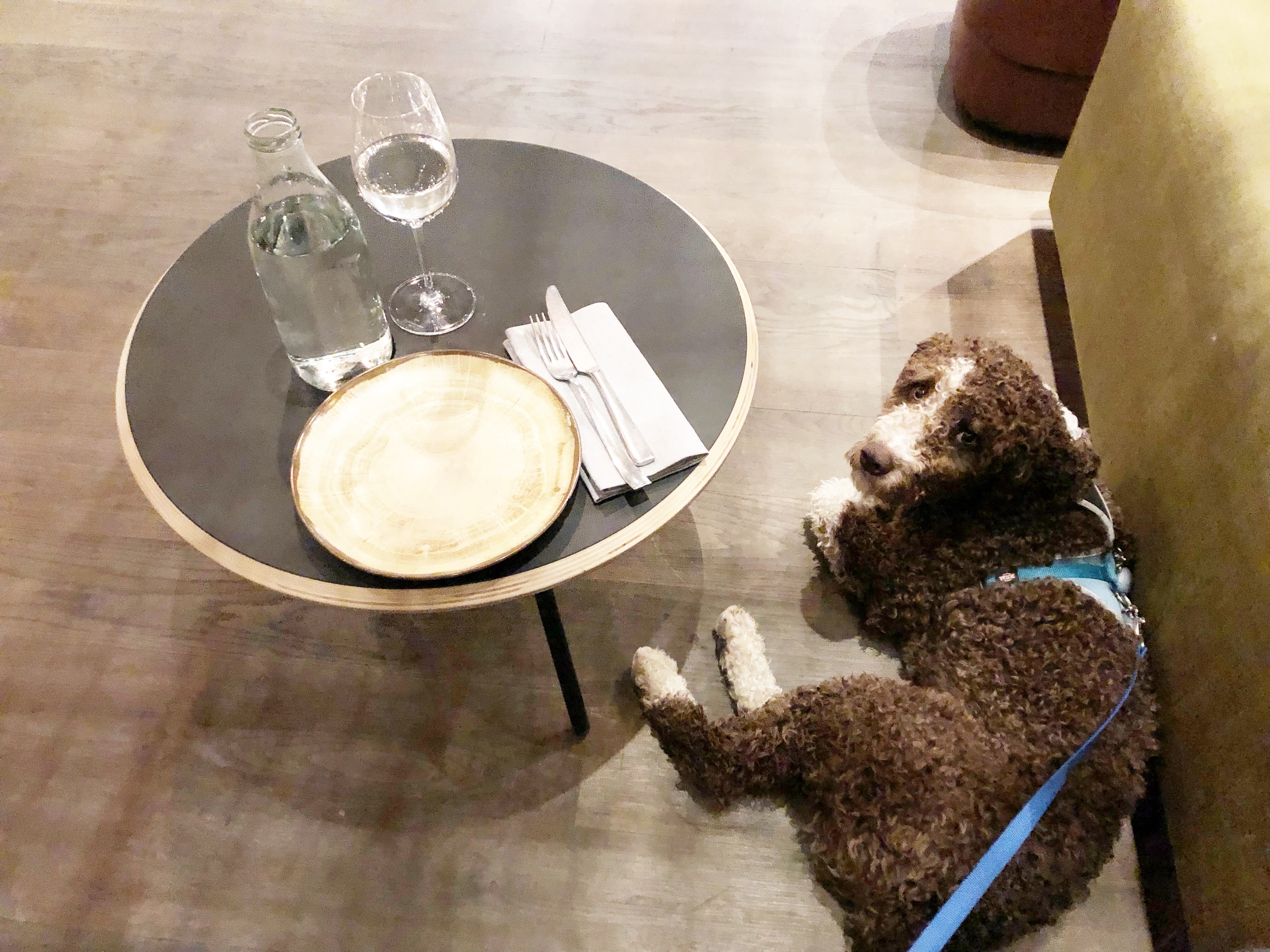 Why did they set the table for only one?
Doglas clothes rack
My clothes rack (like a Bergans showrack)