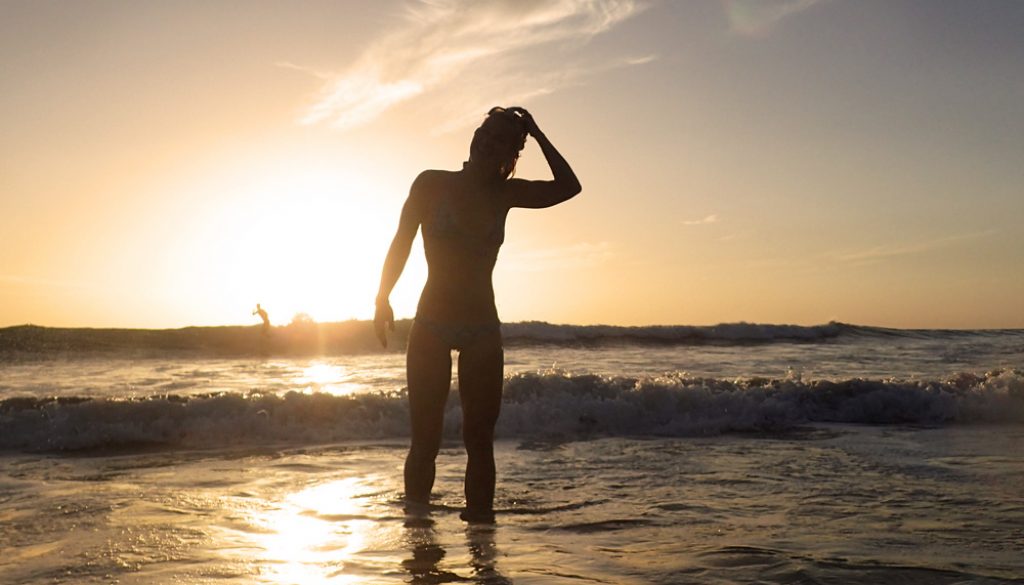 I realised some time back that I don't really do vacations. As good as everything I do is related to one of my some 8 different jobs. So was this. But it still made me more peaceful than any on-the-beach-vacation; Yoga, surf and wellness. And the place is called Peace Retreat. It sounded like the perfect place to start the new year, some new ideas and get off writing my book. So I went there.
I arrived in a zombie-like state late in the evening and was led to a tiny hut in a clearing. The hut has two beds and a shelf for clothes. It was perfect. Even better was it didn't have windows, only mosquito nets covering the walls. It allows the wind to flow right through the little house and I fall asleep with a soft warm wind caressing my face to the sound of jungle outside.
Sometimes I end up in places that just feel right. Do you know what I mean? You have never been there before but it just feels like coming home. It's happened to me before in mountains, by seas, desert and jungles. Now I found that place in Costa Rica.
Next morning I wake up in a yoga class, stretching and breathing with 15 other people and an inspiring teacher. An hour later we have a healthy breakfast outside by the pool and we have already become a small family getting to know each other. There's an acceptance amongst people who are spiritual and working with themselves that are hard to find in other communities.
As much as you learn from introspection, facing fears and being alone with yourself, you can learn as much from meeting the right people. I have just met the right people.
The retreat is situated on the Costa Rican Guanacaste coast. It's in a quiet place in the jungle, not far from the sea and there's no sound of traffic. The nearby Playa Negra village consists of 50m dirt road, 1 bar, 2 surf shops, 3 restaurants and a small mini market. If you walk the jungle path from the retreat you'll walk through the little village and another 7 minutes walk you'll find yourself standing on the most beautiful beach. Almost deserted you can find a small stretch of beach for yourself if you want. But you'd better not stay on the beach. Because there's surf!
I think I'm one of the happiest surfers in the world because I'm the least picky surfer when it comes to waves. I don't mind small waves or white waves at all. I'm also perfectly happy just to sit on the surfboard and hear the sound of the water against the board. If I look down into the crystal clear lukewarm water I see sting rays hovering above the sandy bottom a few meters below. So peaceful. I watch the horizon. As soon as there's a big enough bulge of a wave I turn around facing the shore and start paddling. I share the waves with a young Costa Rican kid as we both laugh as we're catching a wave. He only speaks spanish and I speak english but we understand each other.
The days are spent doing morning-yoga, writing, surfing, talking, some more writing and sunset watching. Everyone at the retreat has different schedules during the day. Some are sitting reading books or studying, some practise extra yoga or a detox routine. I'm way to easily inspired and have to stop myself from doing more than I already am. But somehow just being there has made the biggest difference. The soft atmosphere of the peace retreat has sipped into my blood and left me with a different feeling in the pit of my stomach. It's quiet, peaceful. There's nothing that can make me stressed. I feel physically cleansed, mentally clear and stronger. In fact, I loved it so much I'd like to share it with you! So now we're plotting a open retreat with the best activities, foods and experiences to make for an adventure of a lifetime for both the mind and the body. You could get out of there with a tanned, strong and flexible body and a calm, confident and courageous mind. Imagine a week with mornings of yoga, meditation and mind-work, some free time or coaching, and afternoons of an adventure like surfing, jungle hiking, stand up paddleboarding on a river, SUP yoga, horseback riding or ziplining. We'd finish of the day with some light yoga or more mind work.
Would you be interested in joining? 🙂
Check out this link for more info on the retreat: http://www.peaceretreat.ca/