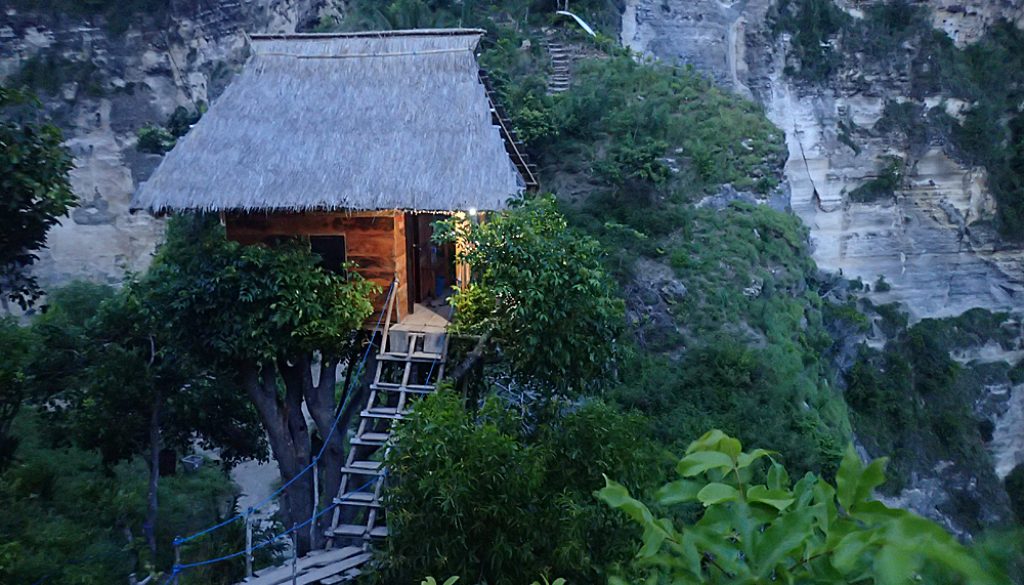 We both noticed the difference. It was easier to breathe and we had another sense of calm. The wonderful simplicity of island life goes deeper than just a visit. The closer to nature, the bigger the sense of peace. Living in a treehouse, feeling the wind through the gaps in the wood and hearing the ocean below was the ultimate mix of elements.
A photo of the tree house suddenly showed up in a social media feed. I recognized the view as Nusa Penida and quickly sent the photo with a 'lets go?' to my boyfriend. Boyfriend obviously said yes right away! There are only two tree houses and it's far far away on the island. Probably as far away as possible from the little harbour where a speedboat drops you off. A motorcycle-rental later we were on the way. With only a small backpack each we moved quickly through the jungle and ocean roads. Google maps showed tiny trails that were pretty good in real life. There were next to no road signs and my boyfriends' fluent Indonesian language skills came to good use.
As we arrived at a small open hut in Warung-style a local staff said we'd arrived. Looking at the trees around there were no tree houses in sight. The young Balinese man showed us downhill a ridge. As we turned a corner my mouth dropped and I stopped in the middle of a big step. The view! It might classify as one of the best views ever!! I almost jumped up and down saying 'look, look!'. Everyone looked. The local guy seemed used to the reaction and pointed to the little houses in a clearing lower down. We chose the one closest to the cliff. Wooden ladders led up some 8 meters to the little tree house. Monkeys skittered away as we made our way in. The interior was very basic; a bed with a terrible mattress, a little table and some nails in the wall for hangers. The whole house swayed as we moved in. Never mind the interior – the view was half of the experience!
Having only two nights it was hard to choose which parts of the island to explore, but I think we managed to find the best spots, including a completely deserted beach that took a bit of climbing to reach. For future Nusa Penida-travellers we can recommend: The tree house! Atuh beach, Suwehan, Kelingking ridge and some snorkelling and freediving along the north coast. There is also 'manta point' on Nusa penida, which is best experienced freediving from a boat.
It's no surprise that coming back to the outskirts of downtown Denpasar was a bit of a shock.
The tree house is on airbnb here.