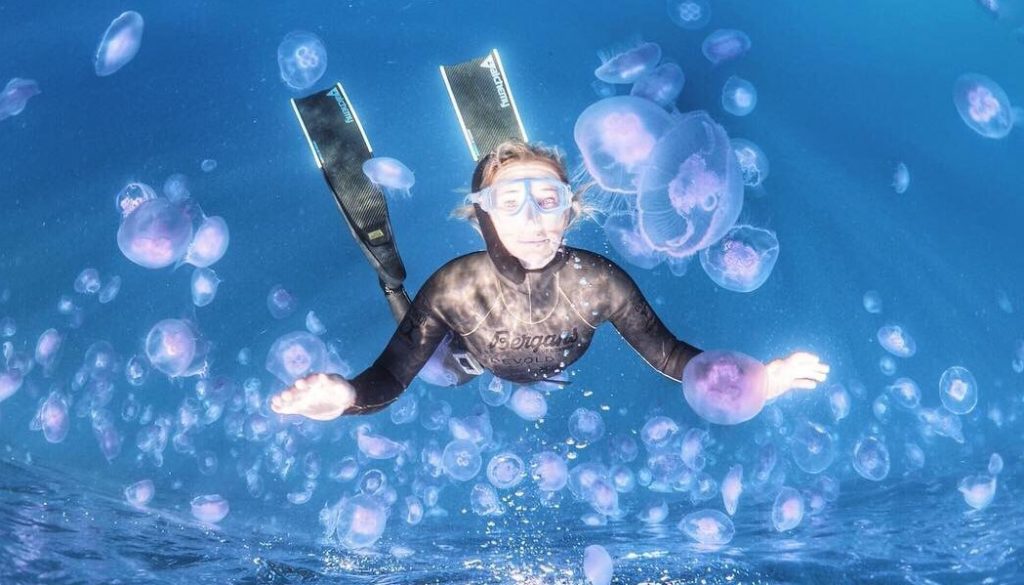 It's been 4 years since I did a deep freedive. What's 'deep' is of course a relative experience. It's different for everyone at different of times of your life. 4 years ago 'deep' was anything below 90m. Today I think 50m is pretty deep, and it's probably my comfort zone at the moment. I miss depth. I miss the pressure, silence and focus. But most of all I miss the person I have to be to do a deep dive. I have to be calm, happy and focused. I like what I have to do to be able to dive deep again; yoga, focused training, healthy diet. I become a better person when I have depth in mind.
Since being in 'mästarnas mästare' (a Swedish TV-show challenging athletes in different sports to compete against each other) I realised I wanted to go back to deep diving. My first possible slot was two weeks ago. I went back (home) to Dahab. I have spent 4-5 years in total in Dahab and it feels like one of my second homes. Dahab is a special place. Even people who say they don't believe in atmosphere and energy would sense Dahab is different. I have some very dear friends there who I'd missed terribly. Meeting everyone again, catching up over smoothie bowls and coffee, was the best part of Dahab. Cirrie, Helena, Jin, Shaun, Nanna, Ali, Muhammed, Olga, Julia, Gaiane, Linda, Lotta, Miguel, Stephane, Gaspard, Raphael. It was amazing seeing you all again!
Apart from socialising, I arrived without goals or expectations, just to observe the body and mind in the ocean. Free diving in the blue hole was like getting a hug from an old friend. My whole face and body was smiling in recognition. It's the same, but different. A different approach might take me deeper. We'll see! First and foremost is a Swedish summer of adventures and fun jobs, and a mountain in Nepal in the fall.
Being in the ocean is more about love and play, than it is performance. I love taking photos underwater as as way of sharing the beauty of the underwater world. Here's a taste of my dahab photography from this time, both over and underwater. Most photos are taken with Olympus Em-1 mark ll. The rest with iphone.